What happens when you bridge the experience, education, and expertise of elders with the curiosity, energy, and innate wisdom of the youth? It's simple. Everyone grows and the world changes for the better -- one conversation, one connection, one collaboration at a time.
Episodes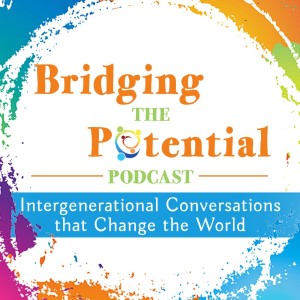 Monday Jan 30, 2023
Monday Jan 30, 2023
What are some key ways to increase focus and resilience and let go of stress?
Monica Cochran, M.Ed has worked with children, parents, and other adults in a wide variety of educational, hospital, and business settings for over 40 years. She has been active in alternative education since 1978, home-educated two of her children, and has worked with other home-educating and distance-learning families since 1997. Currently, Monica works with learners, caregivers, and educators worldwide through her private practice, Learning Without Borders. See her website https://learningwithoutborders.com
James Schmidt is from Salem Oregon, and he is a college student pursuing a major in Psychology and is founding member of the Youth Advisory Council for Living the Potential Network
Six benefits/takeaways the listener will experience:
How to design Self Care as a practice 
Best ways to discover and  leverage your strengths
Learning how to reduce stress and increase FOCUS
Why so many are dealing with "decision fatigue"and what to do about it
Neuro divergent learning strategies for resilience
Best Learning happens in safe community settings-what is needed to create safety?
Thank you for tuning in and subscribing to our Podcast, and consider joining us as a LTPN Community Member at livingthepotential.com/membership